One of my favorite design tricks when a client is feeling nervous about introducing interest on the walls is to introduce interest on the ceiling.
The ceiling can be bold or subtle, it can dark or light, it can be sleek or rustic. It can be almost anything.
The ceiling is often referred to as the "lid" when talking to contractors such as electricians or painters.  In addition, to housing all things mechanical and electrical, it's function can also be to make the space more attractive.  The ceiling has a great opportunity to influence the shade and shadow of the room through color and texture…and I am not talking sparkly popcorn ceilings.   Rather, reclaimed wood, patterned metal, paint, or wallpaper.
In addition to shade and shadow, I use treatments on the ceiling to play on the scale of the room.  Adding a lighter color or large pattern can "lift the lid" while adding a darker color, stain, or texture can bring the lid down to a more human scale making the space more intimate overall.
Lighting a ceiling is a whole other topic in itself, but if you want impact and interest in a room beyond the lighting, don't forget the ceiling!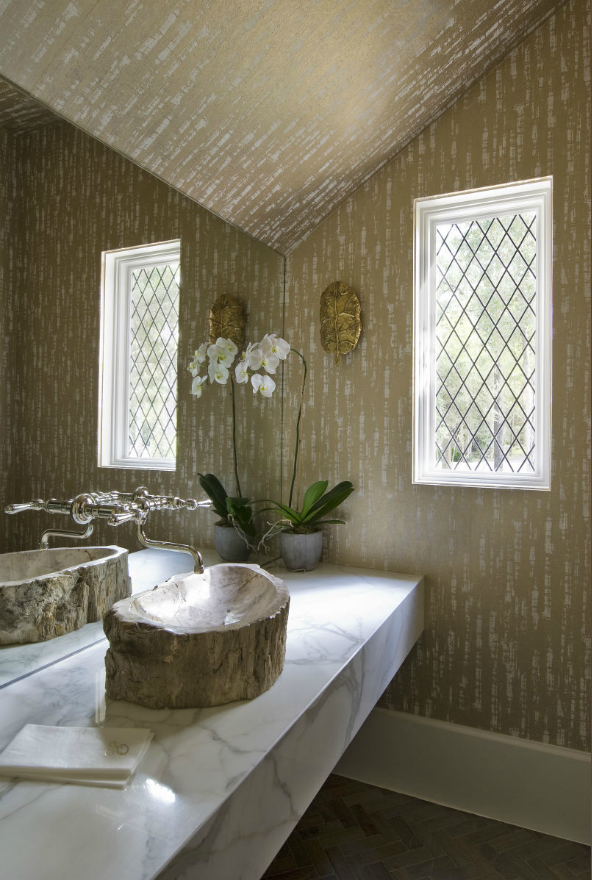 My favorite ways to impact a room with the ceiling
Paint with an intentional pop of color that compliments the furnishings – even the right white!
Use wood stained ceilings or reclaimed wood ceilings great for making a warmer environment.
Add sheets of metal in different modules to create an interesting grid.
Install wallpaper patterns and textures to make some of the biggest impact.
Wrap the wall tile onto the lid in wet areas for function and reflection.
Photo credit: thompsoncustomhomes.com